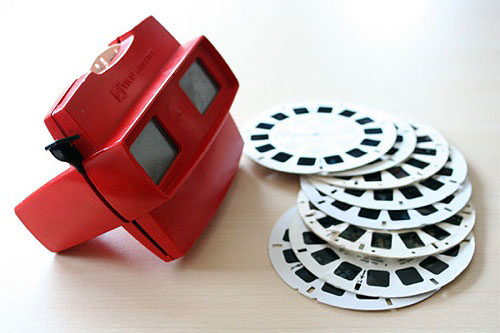 Which VR Device is right for you?
The classic Mattel has taken a new step into the world of VR.
Note: Sample may not play on Chrome Mobile Android unless you are on Wifi. Switch to Wifi connection or try default Android Browser.
Manufacture: Mattel
Version: 2.0
Material: Hard Plastic
Pros: Fits most mobile devices, Easy to operate, rugged construction, world with Google Cardboard.
Cons: no audio out port, no lens focus, no head strap.
URL: mattel.com
The Mattel View Master is a great addition to any VR World. Although there is no head strap, this can be a good thing. One might not want to spend  hours in the VR World with a mobile device for several reasons. ( overheating, not sitting using a swivel chair, may get disorented)
The price is great, you might find it on sale for even below $17. The construction, even with the limits, can still be a better solution than a paper card board viewer.
View Master Starter Kit
Mattel Virtual Reality Trailer 360 On Youtube
Mattel View Master Trailer Video
Use mouse or finger to pan around the VR world.(mobile)
Tip: Use the keyboard arrows if the mouse is not working in your browser.(desktop)
If your browser does not support the video try the Youtube version.
Alternate Viewer Options
Tip: Use the keyboard arrows if the mouse is not working in your browser.(desktop)
Media Type
View Options
Alternate Access
HD Trailer Video of Interactive VR
You Tube App
IOS Try: Launch VR In Youtube App
Rotate your device around in a 360 field of view.
FAQs
Tip: Use the keyboard arrows if the mouse is not working in your browser.(desktop)
Things to Know
Something to try
If your default browser does not work.
Try Using a different browser like google chrome or dolphin.
The Google Cardboard feature is not available or working.
Google cardboard requires you to be in landscape mode on your mobile device.

Not all browsers support the embedded viewer we are using.

Try full screen alternate view option.
There is just a spinning cube.
VR Viewer may take time to load. Best to be on LAN or High Speed Wifi.

Refresh your page or try the Youtube Version if available as an alternate viewer.
IOS browsers may not fully support VR features.
IOS user may need to use full screen button on VR Viewer.

IOS user can use Youtube App to view VR effects.
Enable app link in Youtube App Settings
Why does only finger panning work?
Smart Phone must have a gyro feature.
Why does the 360 Video Not Have Controls?
The Current HTML app is very cross platform independent.

works best with Wifi(360 video).

Alt Youtube 360 via support browser LTE or Wifi

Current Version of Web Player does not have Player Controls.