Action Cam 360: As of 2020 you might find it for under 50.00USD. It can be found under other names such as iView 360 and Vivitar DVR988-BLK 360 in online stores such as Walmart or Amazon.
Cons:
Tended to freeze up and required the reset(pin hole). - not too often
No Audio Jack - Produce great sound though
Software:
You can still find compatible software. Look for future posts about software as we update our database. "Stitching" software is needed and is what makes the two spheres into one 360 video. Upload directly to youtube is available with the the mobile software.
As we look back at 2016, coming in at $169.99 or less the Elecam 360 gets high marks. Even without a water resistance features, this still makes a great 360x360 spherical starter cam. It has a real time conversion app for photos and images which makes it easy to use with various VR Viewers. Aspect 2:1
CPU:SPCA6350M
Support micro SD card 32GB (C6-C10)
220°Fisheye - Super wildangle Lens
360°experience Video and Photo
EleCam 360 APP in Google Play & Apple Store
Connecting Mobile Phone by Wi-Fi
Sharing to Youtube or Wechat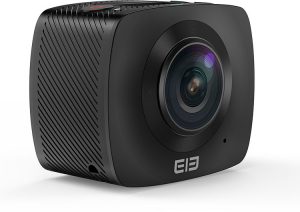 Camera
Camera Sensor:OV4689*2
View Angle:220°*2
Movie File Format:H.264(MOV), Resolution 1920*1080P @30FPS
Photo File Format:JPG,Resolution 3008*1504
Display
0.96'',128*64 pixels
Battery
Capacity: 1500mAh built-in lithium-ion
Battery Life: 1080P@30FPS about 1 hour
Dimensions
60*49.4*32.7mm
Weight
104g
Interface
USB: Micro USB x 1
HDMI:N/A
Software&Apps
App Name: EleCam 360   (** actually it is elecam360  when searching on store.)
OS:Android 4.2 or up/IOS 7.0 or up
Package
Camera,Bicycle mount,Helmet mount,Joint buckle,3M Sticker,USB Cable
360° VR Mode : No record option in this mode. Would be a nice feature if it would do the split 2D record. Feature might be use as a way to watch a birds eye view if your camera was attached to a drone. But do to the short range of wifi connection, this is not possible. You can view video in the VR Mode(Split 2D).
360° Mode :  Always on, you view in VR or touch tracking in 360 degrees. If you select this option then it expands the sphere out to a less fish eye look.
220° Mode : Have not really found this a MODE, there is option to view from front or back lens but not option to turn one off to view only as 360x220.
WIFI/APP : The app is needed to access the modes above less the 220 Mode. It is also how you access the files and upload to youtube. ( Read More about youtube ...) App also has VR mode, allowing you to use your device as look around in the sphere without VR head device.
Sample from their site of JPG. Camera does not save or export this format.
Sample of raw format in MOV. Not currently compatible with youtube 360.
Ok, sure chrome will let you view the video as if it where spherical, the problem is though you really only get a forward and backward view that works. Because there is no stitching, rotating up and down make the image unviewable.